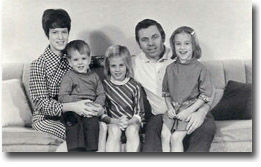 I'm originally from Rockford, Illinois where I was raised like most frugal middle class families in a small house with a single TV, a sister, a brother, parents with good morals and values and a talented grandpa that lived next door. I remember ballet class, waterskiing, sledding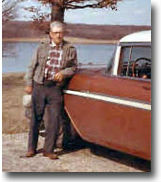 and long family road trips where we three kids would slide around in the back of the station wagon laughing like crazy asking "are we there yet?" Of course kids today won't ever know what fun (and how dangerous) that was. Somehow, at age twelve, I knew that I wanted to live in Florida after a spring break road trip to visit family. Don't worry, on that particular trip there was no sliding around in the back of the station wagon, we actually wore our seat belts.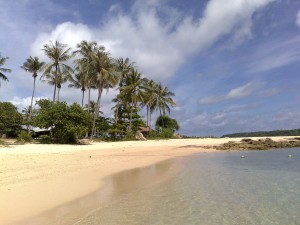 Soon after High School graduation I moved to Texas where I attended a small private college and received an Associate's Degree in Fashion Merchandising. I worked a number of years as Store Manager for two major retail stores. After several icy Texas winters I asked to be transferred to Florida. I was told that I could manage a store in Tampa if I would move in a week so I jumped at the chance and I have lived in the Sunshine State ever since. I love my beaches and palm trees!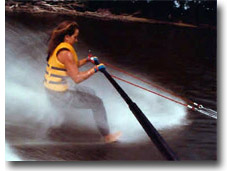 I met my husband when I joined the Tampa Bay Water Ski Show Team and we have been together for 20 years. I quit my job in 2000 to build our house and go back to college. At Hillsborough community College I earned a "real" Associates degree then transferred to The University of South Florida to earn my Bachelors degree but I ended up earning my Mommy degree instead. (I wouldn't have it any other way.)
When I was younger I didn't dream about being an author, I had hoped to be an actress. I used to spend many hours sitting in front of the bathroom mirror practicing toothpaste commercials and accepting a shampoo bottle Academy Award giving elaborate speeches into my hairbrush microphone. I thought that I did this with at least one of my siblings, however neither one admitted to it. Apparentaly I grew out of this phase.
I struggled in school. As much as I liked school, it was really hard for me to ingest information. I tried so hard. It seemed to take me forever to learn how to read with comprehension,
but once I finally did, I found great enjoyment reading Laura Ingles Wilder books.
Creativity is a characteristic in which I have never lacked. I remember attempting to sew a shirt in third grade because I wanted a new shirt. My sister and I each owned one Barbie with no cars, so we turned our pink and purple fuzzy slippers into magical cars that could drive on walls. I used to create poems that were "thank you" notes, or letters that stated my excitement about an upcoming event. I never shared the poems outside of my family circle. It's funny how time changes the information that I now willingly share.
I enjoy eating, therefore, I work out. I love kickboxing, waterskiing and running. I love movies (and popcorn), reading, scrapbooking, jewelry design, swimming, shopping, and going to the beach. By far, my favorite thing is to spend as much time as possible with my husband and son, especially if it's on a cruise.
It is due to my creative energy and love of making all things fun that led me to create my first book Ida Louise and The Lucky Sweater. (See the tab called Ida's Story to learn about how the story developed.) I have had countless ideas that I wanted to invent and obtain a patent, but I never acted on a single one. I didn't want this story to be one of those things that I looked back on later in life saying, "I should have written that book." Therefore, I wrote it. I have my husband to thank for this endeavor. He has and continues to encourage me to reach for the stars.
I hope you love it as much as my family and friends do.